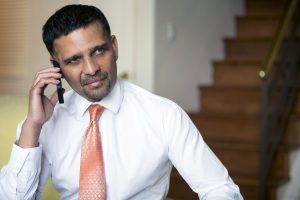 Bishop Phil is a leading Spiritual Medium and Psychic Healer from Guyana. Bishop Phil was born in Guyana but he was raised in the States. He has been studying religions from all over the world for the past 30 years and has worked in all the Caribbean Islands. Bishop Phil turned Christian at the age of 11.
In 2004, Bishop Phil earned the title "Bishop" from the Caribbean Spiritual Ministry and is Ordained with the Universal Life Church Monastery. Bishop Phil was born with the gift to see things, he discovered and developed this gift when he was just a child. He knew at that time he would be led down a spiritual path awakening. Later in life he developed the gift of healing by working with spiritual mentors from all different countries and avenues of life.
Bishop Phil has the knowledge of old school spiritualism that was not written but was instead passed down. He has combined what he was taught with the modern teachings of the new age, to teach people. He shares and teaches this art to many of his students.
Bishop Phil has invented a Spiritual Data Entry System for his clients in order to look into their past life, present situation and future aspects. Keep and update progress notes. Without this there is no way to see how we are growing.
Bishop Phil is considered to be one of the world's leading psychic mediums, whose gifts go beyond the spirit world. He not only counsels you spiritually but also advises and guides you in other areas in your life, such as health and wellness.
Bishop Phil has traveled extensively throughout the islands hosting seminars, workshops and individual and group readings. He offers a free psychic reading through the Internet and over the phone. He has worked with clients from as far away as Europe and the Islands.
Bishop Phil thinks of himself as "A Teacher, not a Preacher". Bishop Phil has a deep and abiding respect for individual cultural beliefs that shape our world today. His fundamental belief is that "We are all one" and he shows that in his Full Life Readings, that are done by the session and not by the minute.